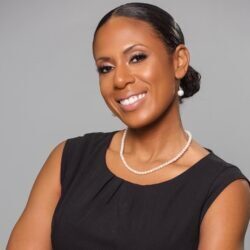 Hi, I'm Jonene Ford, doctor of clinical nutrition, certified nutrition specialist, licensed dietitian-nutritionist, and a mentor to up-and-coming nutritionists.
While I currently live in the Washington D.C. metropolitan area, I was born and raised in Cleveland, Ohio. I started my professional career as a public secondary school educator, where I taught subjects such as Nutrition, Food Science, Health & Wellness, and Personal Development under the curriculum umbrella known as "Family and Consumer Sciences."
During my teaching career, I developed a strong passion for fitness. I was a track and field athlete during my grade school years, so I was no stranger to rigorous physical activity. But when I went to college, I didn't exercise as much, and I began to miss it! I wanted to get back to the level of athleticism I once displayed as a student-athlete, so I began to participate in boot camps, fitness challenges, and races. I also began lifting heavy weights and became a bikini-division amateur bodybuilding competitor. Because of my passion for fitness, I decided to pursue fitness training credentials so that I could help others become more physically fit! It was during this time that I started Ford Wellness, a company committed to improving the lives of everyday people through nutrition, fitness, and health coaching programs and services.
While I am no longer an active competitor, I remain dedicated to fitness. You still can find me in a gym or outdoors exercising on most days of the week! I enjoy outdoor walks, hikes, obstacle courses, and anything else that involves a physical challenge! I am no longer active as a fitness trainer these days, but I still help both amateur and professional athletes reach peak performance through research-based nutritional protocols.
In 2017, I made the transition from the classroom into full-time private practice within my company, Ford Wellness. I decided to make this change because I felt I could make a larger impact on the health of my community if I worked with the people who were food decision-makers – adults! I have since been working as a health coach and functional nutritionist.
When it comes to nutrition and health, I am a strong believer that God provided us with what we need to be healthy here on earth. I also believe that when we find balance in our lives, we become healthier human beings. I utilize functional and holistic nutrition practices when working with clients. This means that not only am I concerned about what you're eating, I'm also concerned about things like your mental & spiritual health, your stress levels, your exercise patterns, and your exposure to environmental toxins.  Yes, good nutrition is extremely important, but it takes more than just eating well to be healthy overall.  When you work with me, we talk about all of that and then some!
I also am more concerned about getting to the root of health problems as opposed to addressing symptoms.  Symptoms are simply clues.  I use those clues coupled with a person's health history to discover and address the causes.
Apart from work, you can find me spending time having fun with my loved ones, traveling to a new place, walking with my fur-baby Lillie, exploring new cultural events, restaurants, and museums in DC, being a beach bum, reading a book, or binge-watching my favorite shows on Netflix and Hulu.
MY AREAS OF SPECIALTY
– Polycystic Ovarian Syndrome
– Cardiovascular Health (including hypertension and high cholesterol)
– Obesity and Non-Surgical Weight Loss
– Nutrition for Improved Healthspan
EDUCATIONAL BACKGROUND
Doctor of Clinical Nutrition – Clinical Nutrition – Maryland University of Integrative Health – 2022 
Master of Science – Nutrition and Integrative Health – Maryland University of Integrative Health – 2019
Master of Education – Educational Administration and Supervision – Bowie State University – 2013
Master of Arts – Human Growth and Development – University of Akron – 2009
Bachelor of Arts – Secondary Education – University of Akron – 2003
CERTIFICATIONS AND LICENSES
Certified Nutrition Specialist – Issuing Body: American Nutrition Association
Licensed Dietitian-Nutritionist – Issuing Body: Maryland Department of Health
Fitness Nutrition Specialist – Issuing Body: American Council on Exercise
Certified Parent Educator – Issuing Body: University of Akron
Schedule an Appointment with Me

.